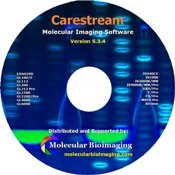 Upgrading Your OS to Win 7?
Molecular Bioimaging now distributes and supports Carestream MI Software version 5.4.2 upgrades for your Kodak or Carestream Gel Logic or Image Station imaging system. This new version is now Windows XP, 7 and OSX 10.5-10.9 compatible for most systems and no longer requires a security key or dongle, just an installation code. It also includes new features, especially a Multiplex tool for analyzing multicolor gels, blots or assays. A digital version of the user guide is also available. Please contact us for more information or a quotation, or to place an order. More information can be found on our Products and Support pages.

Welcome to Molecular Bioimaging
Molecular Bioimaging provides complete support for preclinical imaging systems in biomedical research. From sales and application assistance to installation, training, technical support and service, we are behind your system and science 110%.
We specialize in systems for:
1. DNA, RNA and Protein Gel Documentation (especially Kodak and Carestream Gel Logic and Image Stations)
2. Chemiluminescent and Fluorescent Western Blots (esp Kodak and Carestream Gel Logic and Image Stations)
3. Small Animal In Vivo Optical Bioluminescence, Fluorescence and Digital X-ray
4. Small Animal In Vivo PET, SPECT, CT and MR
5. High Resolution Specimen Digital X-Ray and micro CT
6. High Throughput Digital Autoradiography
7. Quantitative, High Resolution Digital Autoradiography
We are highly trained Application Scientists, Field Engineers and System Technicians experienced in hardware, software, cameras, detectors, optics, filters, light sources, protocols, quantitative analysis and image processing. We can help you in many different ways.
Please contact us if we can be of any assistance.
Phone: (909) 938-9470
Email: preclinicalimaging@gmail.com